The Big Read: As maids become a necessity for many families, festering societal issues could come to the fore
Published on 31st October, 2019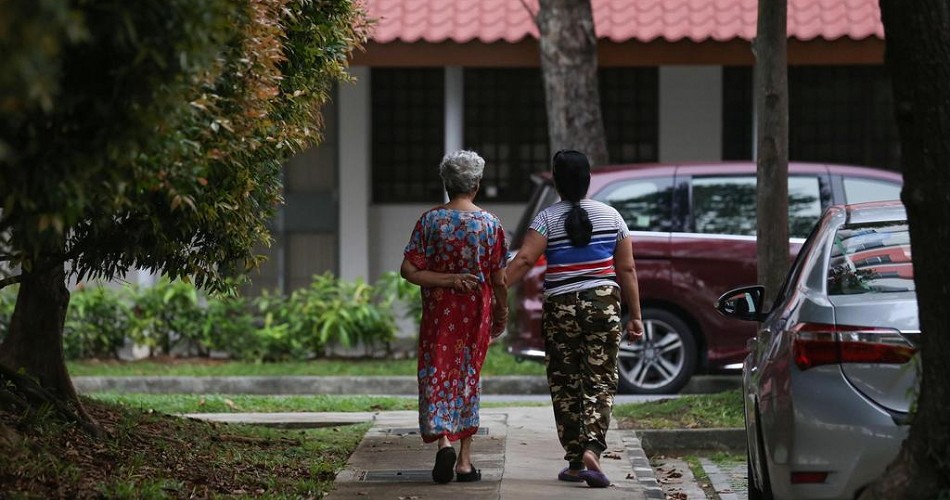 SINGAPORE — In less than a decade, the number of foreign domestic workers (FDWs) here has spiked about 27 per cent — from about 201,000 in 2010 to 255,800 as of June this year. Now, every fifth Singaporean household hires a maid. In 1990, the ratio was about one in 13, with about 50,000 maids here then.
Amid rising affluence, a prevalence of dual-income parents and a rapidly ageing population, Singapore families' dependence on FDWs is set to increase even further. For many, hiring a FDW is no longer a luxury. It is a necessity. Take the case of the family whom Ms Zin Mar Kyi from Myanmar is working
The 28-year-old has not seen her own family in four years. But each time she brings up the idea of taking three days of leave to return to Myanmar to see her ailing father, her employers would decline, telling her that there would be no one around to look after the elderly at home.
Ms Zin Mar Kyi's experience is not uncommon among FDWs making a living here. But it highlights just one of many issues plaguing the industry — issues that run the whole gamut but have been left unaddressed for decades. And it is not just the FDWs who are facing problems. TODAY's interviews with all stakeholders — agents, maids and employers — showed that each side has its own set of long-standing grievances, even as new challenges, such as the rise of social media, complicate the equation. In recent months, there have been signs that if left unchecked, the underlying issues could lead to more serious problems.
For example, the Government recently highlighted the sharp spike in the number of foreigners — with maids making up a substantial proportion — borrowing from licensed moneylenders, from 7,500 in the whole of 2016 to 53,000 in the first six months of 2019. Under tightened regulations announced in July, foreigners, including maids, who earn less than S$10,000 can now borrow only up to S$500 – S$1,000 less than when the rule was first imposed in November 2018.
Then, there is also concern over the radicalisation of FDWs, albeit in small numbers so far. Since 2015, 19 FDWs have been found to be radicalised in Singapore. Three of the maids were charged in court last month with terrorism financing. The rest had been repatriated after the authorities completed their investigations. While none planned to carry out violent acts on Singapore soil, the Ministry of Home Affairs (MHA) had previously said their radicalisation and associations with terrorists overseas made them a security threat to Singapore.
Experts including Dr Noor Huda Ismail, an Indonesian who is currently a visiting fellow at the S Rajaratnam School of International Studies, noted that in most of these cases, the radicalisation process stemmed from the FDWs seeking companionship and ended up being indoctrinated by online boyfriends. While FDWs have recently been in the headlines for the wrong reasons including theft and attempted poisoning, they are often also at the receiving end, with cases of maid abuse regularly heard in the courts such as the one involving a couple who subjected two domestic helpers to repeated violent physical and emotional abuse. TODAY takes a look at the longstanding issues faced by the different stakeholders as well as the implications, and what can be done to address them.
MAIDS' CONCERNS — MONEY MATTERS AND PERSONAL FREEDOM
While most people have the luxury of checking out the work environment, scrutinising every line in their employment contracts or even stalking their bosses on social media, maids are not as lucky. Not only do they know little about their bosses-to-be, it also does not help that their work visas bind them to their employers, giving the latter the power to terminate contracts at will.
Take the story of a Filipino maid who wanted to be known only as Beth. The 53-year-old was let go just three days before her acute appendicitis surgery was scheduled in Singapore, and she suspected that her employing family was reluctant to pay S$12,000 in medical fees upfront before they could claim insurance to cover the costs. Beth, a 53-year-old Filipino domestic helper was let go just three days before her acute appendicitis surgery was scheduled in Singapore. When Beth first complained about a headache and a sharp pain in her abdomen after she was told to look after the baby, her female employer simply told her to "stop making dramas". The maid who was rolling in pain ended up getting checked at a Singapore hospital only after she called her neighbour's helper, as her employer would only give her Panadol. Beth returned to the Philippines with a S$400 flight ticket she paid out of her own pocket, as the one which her employers were obligated to pay for was handed to her just two hours before the plane was set to take off — the same time when she was abruptly told of her dismissal. The 2013 incident was the lowest point in her 20 years of employment in Singapore, as she ended up having to spend 130,000 Phillipine pesos (about S$3,500) for the surgery in a Manila hospital, where she was admitted to the emergency ward.
Ms Maana Edquila, 47, who is also from the Philippines, said she would usually try to self-medicate when she feels sick, so as not to burden her employers. She is also aware that her employers have bought some form of insurance plan for her but is not sure what it entails. Ms Maana Edquila, 47, who is from the Philippines, said she would usually try to self-medicate when she feels sick, so as not to not burden her employers. According to the Ministry of Manpower (MOM), employers are required to buy medical insurance plans with a minimum coverage of S$15,000 per year to help them manage their maids' medical costs. The amount was raised from S$5,000 to S$15,000 in 2010 to keep up with the larger medical bills. Money has indeed been the cause of headaches for many maids here. Many leave their homelands in search of a better life for their families, but before they can make any gains, most of them know they must suffer financial hardship in the first few months at least. Almost all the maids TODAY spoke to knew they would have to pay placement fees – or "maid loans" – of about six to nine months. This is despite MOM's law that allows Singapore agencies to deduct only two months of a worker's pay for placement fees. Many agencies here stressed that the rest of the placement fees are given to agencies in the maid's native country, which cover pre-employment expenses such as the flight to Singapore, lodging, training and medical examination. However, most of the maids interviewed did not know exactly what they were paying for. Among those who did, they felt that the training, food and lodging which they were given at the agencies back home were not worth the amount they paid.
Indonesian Ida Ayu, 24, said the living conditions in the Indonesian agency were "terrible" and "not even worth the six months' deduction" of her salary. Speaking in Bahasa Indonesia, she said that she stayed at the agency for over four months. There, she ate chicken only once a month. On good days, she got to eat seasoned vegetables or chicken heads and feet. The sleeping quarters were also packed, with over 20 women "sleeping shoulder to shoulder on the floor'', she said. The experience was like "being in jail", she added. Indonesian Ida Ayu, 24, said the living conditions in the Indonesian agency were "terrible" and "not even worth the six months' deduction" of her salary. Indonesian helper Ida Ayu, 24, is seen looking at her folded family photo. Some of the more resourceful maids said they were able to bypass their agencies back home to land a job in Singapore.
Among them was Indonesian Husnul Khotimah, 40. She left her village in Lampung for Singapore early last year and applied for a job as a maid at a Singapore-based agency. Happy that she had to pay only two months of placement fees as she got the job at the agency of her own accord, the mother of two children, aged 20 and three, said: "I heard about the high placement fees that maids had to pay and I didn't want to be in so much debt. "Six months of salary deduction is a lot of money. I have kids at home to feed." Indonesian Husnul Khotimah, 40, found that she could gain employment in Singapore without going through employment agencies in her own country, so she left her village in Lampung for Singapore early last year and applied for a job as a maid at a Singapore-based agency.
Both Ms Husnul and Ms Ayu believe that their move to Singapore has paid off, adding that they had "struck the lottery" by getting good employers. But not everyone is as lucky as them. Coming to a foreign land with modest finances and little English, Myanmar maid Chomden (not her real name) was abused by her employer merely three weeks after she started working.
The memory of the abuse brought tears to her eyes as she told TODAY through a translator that she was slapped and beaten with kitchen utensils every other day for more than a month. Chomden later told a friend about what happened, and the latter lodged a complaint to MOM, which launched an investigation. More than two years have passed and Chomden is still waiting for the case to be heard in court. She has been staying in a shelter run by non-governmental organisation (NGO) Humanitarian Organisation for Migration Economics (HOME).
HOME casework manager Jaya Anil Kumar said it is common for maids to stay in a shelter for an indefinite period, noting that the shelter is consistently near full capacity. The shelter helps about 800 FDWs each year, on average. A larger shelter managed by the Centre for Domestic Employees (CDE) separately housed 373 maids last year, up from 141 in 2017. Ms Jaya said that for more complicated cases, the entire process could take more than five years. This was so for Myanmar national Moe Moe Than, 32, who reported her abuse in 2012 but the trial involving her employers only concluded in March this year.
Although Chomden can be re-employed in the meantime, many Singaporean employers are hesitant to hire her after finding out that she is involved in a police investigation — never mind that she is the victim. "A lot of the domestic workers themselves are quite traumatised by their previous experiences and they don't want to go back to domestic work," said Ms Jaya. "So due to the confluence of these factors, they just end up waiting for their cases to come to a conclusion." In response to TODAY's queries on the incidence of such maid mistreatment cases, MOM said it "remained low" at an average of 40 cases annually between 2010 and the first half of this year. The cases comprise employers failing to pay salaries or not providing safe working conditions.
Over the years, MOM has introduced a series of new measures or enhanced existing policies to better protect the well-being of FDWs. These include amending the Employment Agencies Act in 2011 to cap the fees which the agencies can charge FDWs, and to impose higher penalties for unlicensed and errant agencies. In 2013, MOM also introduced mandatory weekly rest days or compensation-in-lieu. The minimum sum assured under FDWs' personal accident insurance was also raised in 2017 from S$40,000 to S$60,000, which will accrue to FDWs or their families. According to MOM's 2015 survey of 1,000 FDWs, 97 per cent said they were satisfied working in Singapore while 76 per cent said they intended to continue working in Singapore upon completion of their current contracts. The next periodic survey will be conducted in 2020, MOM said.
SMARTPHONES — A MAID'S 'LIFELINE'
Thousands of miles away from home and not being able to go out as much as they like, many maids have turned to the internet and social media as an important outlet for recreation and to stay connected with friends and families, as well as the outside world.
They can video call their family, or post updates on social media applications such as WhatsApp, Telegram, Facebook, and Instagram. To cure their boredom, some of them have also turned to video-sharing applications like TikTok.
On TikTok, it is quite common to see maids dancing or mouthing lyrics as they go about doing household chores such as feeding a baby or cooking. Earlier this week, Filipino maids Florence Suyo, 39, and Evelyn Balnez, 38 — both of whom had been working in Singapore for close to 20 years — were vlogging along Orchard Road. They told TODAY that they also use their smartphones to coordinate days-off, and stay connected to a Taekwondo master whose classes they attend — along with 20 other maids — every weekend at Nee Soon Community Centre to keep fit. "Phones are the only (lifeline) of the helper," Ms Suyo said. "If the employers won't allow their helper to hold the phone, you cannot get along with the helper because phones are the connection with the family." A group of domestic helpers seen recording a vlog along Orchard Road during their day-off.
Continue reading here: https://www.todayonline.com/big-read/big-read-hiring-maids-no-longer-luxury-longstanding-issues-could-snowball-if-unchecked

First published by Nabilah Awang, Wong Pei Ting
Read more at https://www.todayonline.com/big-read/big-read-hiring-maids-no-longer-luxury-longstanding-issues-could-snowball-if-unchecked