'You hurt me!' Indonesian maid crying outside employer's home sparks probe
Published on 4th February, 2020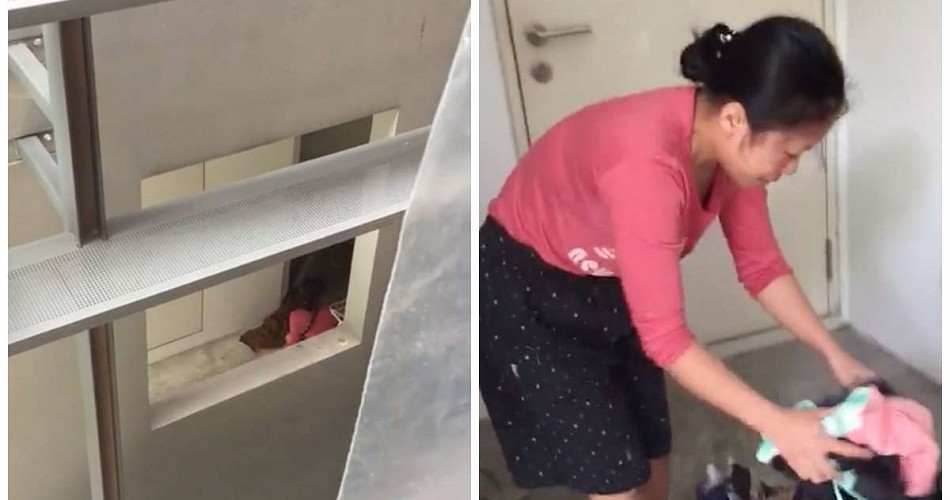 'You hurt me!' Indonesian maid crying outside employer's home sparks probe
The authorities are investigating a potential case of domestic worker abuse after videos of an Indonesian maid allegedly being thrown out of her employer's home on Holland Road emerged online.

The Center for Domestic Employees said yesterday that an investigation is underway after clips began circulating of an Indonesian maid being thrown to the ground as the sound of a door slamming shut is heard in the background. Her personal belongings were also strewn on the floor as the maid is heard crying "You hurt me! I call my agency!"
"We are aware of the viral video that seemed to suggest an FDW was in distress outside her employer's house," the domestic employees center wrote online, using an acronym for foreign domestic workers.
"We are in contact with the FDW and the authorities currently to assist her, should she need further advice. We urge the public not to speculate, and let investigations run its due course," it continued.
See the videos here.
The police were called over the incident, according to the eyewitness who originally posted the clip online Saturday. The Facebook post included a photo of two police officers taking down statements.
The eyewitness, named Mitch A Bern, appears to be a Filipino- and English-speaking neighbor who allowed the maid into her home and fed her.
"Such a cruel employer… Look at this poor young Indonesian girl… She's working almost six months [with] her employer but the employer not good. She's struggling giving not enough food and wake up early and no Off DAY… so we try to help her eat," the woman wrote Saturday, adding that someone had called the police.
In another post, she said the maid had not eaten breakfast or lunch.
The police told reporters today they were alerted to the case at around 1:30pm on Saturday and that an investigation is underway.
Domestic worker abuse is rampant in Singapore even though employers found guilty of the offense face a jail sentence and ban from hiring future domestic workers. A 2017 study by Research Across Borders showed that six out of 10 foreign domestic workers in Singapore have been abused.
First Published on 4 Feburary, 2020 By Coconuts Singapore
Read more at https://www.msn.com/en-sg/news/singapore/you-hurt-me-indonesian-maid-crying-outside-employers-home-sparks-probe/ar-BBZD7Ck